Meet Dr. Richard Gray
Changing Paths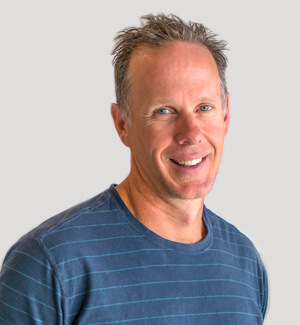 When Dr. Gray was attending university, he declared a pre-med major. A hockey match sent him flying into the boards, and the resulting injuries would forever change his path. After sustaining neck and low back injuries, he could no longer play. The team doctor recommended anti-inflammatories, painkillers and muscle relaxers—all of which were in line with the solutions he'd grown up with. Someone suggested a chiropractor, but Dr. Gray was skeptical. Desperate, he went anyway and had an adjustment. Within a week, he was skating again and started looking into the profession.
Finding a New Perspective
Once the decision to alter his life plans was made, Dr. Gray attended the University of Western States in Portland, Oregon. There, he gained a scientific background about the intricacies of the human body. When he graduated with a Doctor of Chiropractic, he entered practice with the idea that he wanted to help people get out of pain and feel better.
Another life experience, however, transformed his perspective.
"I bent over one morning to put socks on and herniated a disc. The pain was so bad I could barely walk. I went to an orthopedic surgeon, who said I needed surgery. Fortunately, I met a chiropractor with a completely different philosophy than mine – that the body was created to be healthy and that change comes from the inside out." After spending years working to correct his issues, he was fully healed, and the results could be seen objectively on the MRI, which the doctors said wasn't possible with chiropractic. "That's when I realized there was more to it than managing pain. Though chiropractic care can be incredibly effective at relieving discomfort, there's so much more you can do with it. It's about creating healing from above down, inside out and creating strength in your body so it can express its full potential."
Staying Active in the Profession and Our Community
To stay up to date, Dr. Gray travels several times a year to various conferences. He's taken numerous courses on Chiropractic BioPhysics® and uses the principles of posture correction to improve his patients' lives.
He's the team chiropractor for the Lethbridge Hurricanes and works with university athletics. To help other chiropractors at the beginning of their journey, he is a chiropractic coach with a mentorship program.
CHIROPRACTIC CARE »
A Love of Family and Fitness
Outside of chiropractic, Dr. Gray stays busy with his family, including wife Marianne and children, Nicole and Zachary. Nicole participates in soccer, golf, volleyball and basketball, while Zach plays basketball, football and lacrosse. Their family loves enjoying the great outdoors in Montana, doing water sports in the summer and downhill skiing in the winter. Dr. Gray is an avid cyclist who enjoys staying fit and has participated in triathlon and IRONMAN® competitions.
If you'd like to learn more about what we do, contact Fresh Life Chiropractic in Lethbridge today!

Chiropractor Lethbridge | (403) 331-3301